C.A. Kirkendoll Learning Resources Center (LRC)
Library Mission
The main purpose of the Learning Resources Center is to support the College's Mission by acquiring, organizing, facilitating the use of and maintaining a well-balanced, up-to-date collection of information resources through technological and personal services that promote life-long learning.

The library supports students and faculty in their educational and instructional goals by providing on-site and off campus access to a variety resources and an environment that promotes inquiry. The Kirkendoll Learning Resources Center opened for service on February 13, 1978 and was officially dedicated on October 17, 1978.

The Learning Resources Center (LRC) is named in honor of Bishop Chester Arthur Kirkendoll, then presiding Bishop of the Fifth Episcopal District of the Christian Methodist Episcopal Church (CME), and Chairman of the Board of Trustees of Miles College. The Center embodies the concept of integrated support services and enrichment to the instructional program of the College by providing information resources in a variety of styles and formats.

The Kirkendoll Learning Resources Center is comprised of four levels, located on the west side of the campus in close proximity to student housing and classrooms. The First Level houses a centralized pool of educational media and instructional services for all divisions of the College. Areas included are those for television, graphics preparation, photography, video/DVD previewing, classrooms,

The Communications Department, instructional materials, staff and faculty lounge, Board Room, and a computer laboratory. The Second Level is devoted to general library services: circulation, reference, periodicals, library administrative offices, and technical services. Loan service is extended to all students, faculty and staff as well as residents of the community.

The Third Level contains the College and CME Church archives, African-American materials and stacks and study areas including nine closed carrels for individual study. The Mattie Gill Jackson African-American Materials Center in the LRC is a growing collection of books, periodicals, recordings, films/DVD's on Black Culture. The Center is open for use of the community and visiting scholars as well as faculty, students and staff.

The Fourth Level is occupied by Freshmen Studies and Student Support Services. The collection of the LRC numbers more than 77,000 volumes, including books, e-books, bound periodicals and a growing collection of databases, multimedia materials and equipment. The facility has the capability of housing more than 100,000 volumes and seating more than 150 patrons. To facilitate effective use of the LRC, personal assistance and guidance are provided by the library staff to faculty, students, staff and patrons. The LRC HANDBOOK, available at all service desks, is available for a more detailed description of LRC services and regulations.
Kirkendoll LRC Hours of Operation:
Image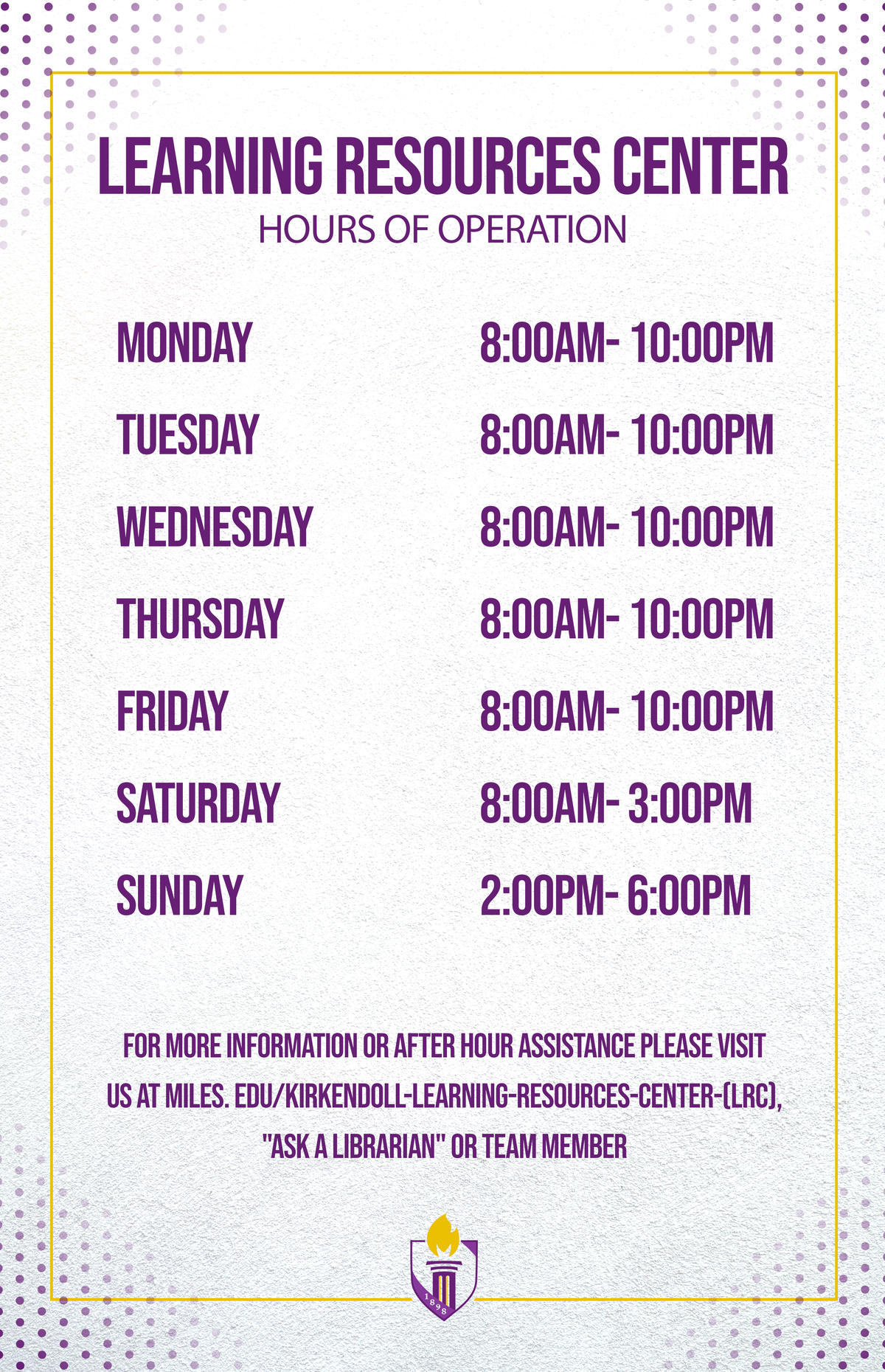 Please note that LRC hours are subject to change during Mid-Term and Finals Week. 
Contact Us:
205.929.1709
askalibrarian@miles.edu
Library Orientation Presentations