Meet the Family
Friendly faces. Warm welcomes. There's no better way to get to know Miles than by meeting us. You can also learn more about Miles College by attending an informational webinar. Follow Miles College Admissions on Facebook to find upcoming webinars and other admissions events. Or just reach out — we're always happy to chat!
How to Visit
Visit in person or virtually for a Miles College tour. Either way, you'll get a good feel for what makes Miles unique.
You'll start at our Welcome Center, where you can see images and artifacts from Miles's trailblazing history. You'll also see the street mural on Black Lives Matter Plaza, our new Student Activity Center with its game room, the Miles residence halls where you'll make friends for life, and the Miles College athletics facilities, home of the Golden Bears.
When to visit: Tours take place Monday through Thursday at 10:00 am and 2:00 p.m.
Schedule your visit: For in-person tours, try to reserve your spot at least a week in advance. These tours are capped at 10 people, and spots fill up fast. There are two ways to schedule your campus tour.
Schedule a tour by contacting Admissions at 205-929-1656, or by email at admissions@miles.edu
Book a Group Tour
We're excited for the opportunity to host your high school group for an enriching and memorable experience.
Self-Guided Tours
If you're in the area, feel free to come by and take a look around using our annotated map. The self-guided tour follows the same route as our in-person tours and offers background information at each stop along the way.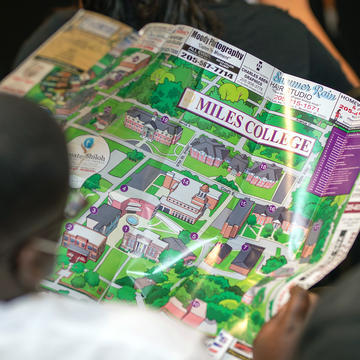 How to Get to Miles
Miles College is six minutes from downtown Birmingham, AL, in the City of Fairfield.  By car, I-20, I-65, I-59, and I-22 all pass nearby. 
You'll find us at 5500 Myron Massey Blvd, Fairfield, AL 3506
Our Beautiful Campus
Miles College sits on some 80 acres of lovingly tended grounds. Our buildings span more than a century, with one of the oldest, Brown Hall, newly renovated to house the office of President Bobbie Knight and other administrative centers. One of the newest buildings, the Student Activity Center, offers an updated vision of student life.