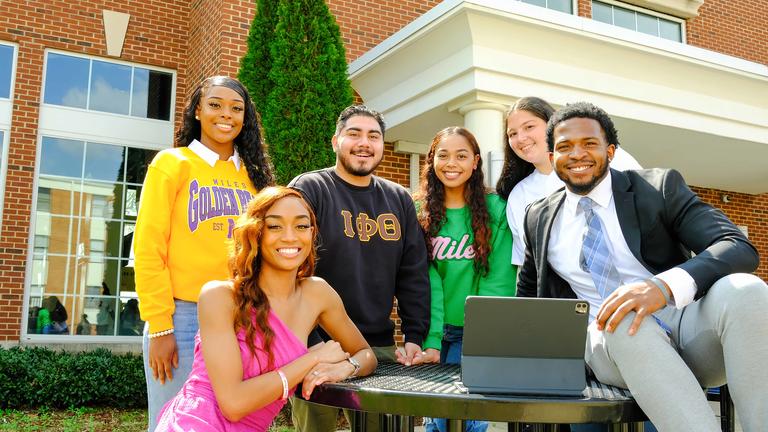 About Miles
Miles College is a senior, private, liberal arts Historically Black College with roots in the Christian Methodist Episcopal Church.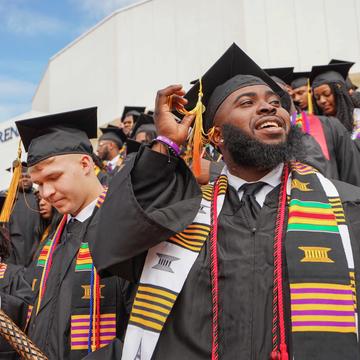 Mission Statement
Miles College is a senior, private, liberal arts Historically Black College with roots in the Christian Methodist Episcopal Church. Through dedicated faculty and staff, the College cultivates students to seek knowledge that leads to intellectual and civic empowerment. Students are transformed through rigorous study, scholarly inquiry, and spiritual awareness, thereby enabling graduates to become responsible citizens who help shape the global society.
2023-2028 Strategic Goals
Strategic Goal # 1
To offer a broad range of high-quality programs through teaching and learning.
Strategic Goal # 2
To recruit and retain appropriately qualified and highly effective faculty and staff.
Strategic Goal # 3
To build programs to enhance student life.
Strategic Goal # 4
To provide a sound financial base to support the institution.
Strategic Goal # 5
To attract a more diverse campus community.
Strategic Goal # 6
Transform the campus with new and improved infrastructure, facilities, and technology, which includes instruction and learning.
Strategic Goal # 7
Respond to the most urgent needs of local, state, national, and international constituents to foster collaboration and mutually beneficial relationships.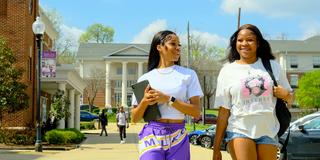 Vision Statement
Miles College is an institution of academic excellence whose students, graduates, and faculty contribute to the intellectual and professional vitality of the broader community, exhibit technological sophistication, and value the renderings of art in all its forms.
The College serves increasingly diverse students and gains recognition for global partnerships that assure cultural awareness. Student and faculty involvement in international studies and global intelligence will preface the College emerging as a magnet for regional dis- courses in public policy and global awareness.
Academic course offerings will include masters-level courses delivered through a variety of pedagogic delivery mechanisms that appeal to a wide range of student needs. The course offerings are a catalyst for continued growth in the number of students served.
Miles College functions as the archetype for colleges and universities throughout the United States and the global community to engage in the study, discourse, and application of solutions for human problems throughout the world. Students, who engage in the Miles College experience, demonstrate a commitment to excellence, continuous improvement, and service to others through regular gifts to the dynamic academy that Miles College has become.
History:
Miles College, founded in 1898, is a premier liberal arts institution located in metropolitan Birmingham within the corporate limits of the City of Fairfield. The noble founders of the institution saw educated leadership as the paramount need in the black community.  Miles, which is fully accredited by the Commission on Colleges of the Southern Association of Colleges and Schools and accredited by the Commission on Colleges for the awarding of Baccalaureate Degrees, is the only four-year institution in historic Birmingham, Alabama designated as a member of Historically Black Colleges and Universities (HBCU).  Miles College is a science, technology, engineering, and mathematics (STEM) higher learning institution.  The College is one of only 39 HBCUs to have the designation of a United Negro College Fund (UNCF) institution. 
Miles College has as its brand civic engagement and activism. As a matter of fact, during the planning stages of the Southern Christian Leadership Conference (SCLC), when members were deciding what test city to implement the Civil Rights Movement, it was proposed to go to Birmingham, Alabama, because the students at Miles College were already engaging in civic protests and boycotts against segregated public facilities. In essence, the Civil Rights Movement, in part came to Birmingham, Alabama, because of the activism of students at Miles College, helping to make Birmingham, Alabama, the Civil Rights Capital of the world.
The College offers baccalaureate programs with majors such as Accounting, Biology, Business Administration, Chemistry, Communications, Computer and Information Sciences, History, Language Arts, Criminal Justice, Early Childhood/Elementary Education, English, Mathematics, Political Science, and Social Work.  In sum, Miles offers 29 Bachelor's Degree programs in six academic divisions to an enrollment of approximately 1,500 students. 
We attribute the success of our students to diligence and academic seriousness, as well as to the faculty members who immerse themselves in the holistic education of students.  Faculty members not only teach students inside of the classroom; but are part of their external classroom lives as well.   Miles College has 135 faculty members who are visibly committed to higher learning and professional development.  Faculty members are diverse and bring professional and personal experiences from over twenty countries.  At least 30% of the faculty members are from Asia and African countries. 
Miles College is strong financially, and in 2006 purchased a new 41-acres campus adjacent to the existing campus.  Previously "landlocked," this acquisition enabled Miles to double the land size of the College.  Miles College is centrally and ideally located. The City of Birmingham lies at the cross points of I-20, I-65, I-59, and I-22 (Old U.S. Highway 78), linking the cities of Atlanta, Georgia; Jackson, Mississippi; Memphis, Tennessee; New Orleans, Louisiana; Huntsville, Alabama; and Montgomery, Alabama, all of which have major HBCU institutions and a large number of majority colleges and universities.  Furthermore, the majority of HBCUs are located in the South; and the state of Alabama, which has 15 HBCUs, leads all other states in terms of the number of HBCUs within its boundaries.
Mission Statement PDF:
Mission Statement 125th

Organizational Chart:

Miles College Organizational Chart
Accreditation:
Miles College is accredited by the Southern Association of Colleges and Schools Commission on Colleges (SACSCOC) to award baccalaureate degrees. Questions about the accreditation of Miles College may be directed in writing to the Southern Association of Colleges and Schools Commission on Colleges at 1866 Southern Lane, Decatur, GA 30033-4097, by calling (404) 679-4500, or by using information available on SACSCOC's website (www.sacscoc.org).