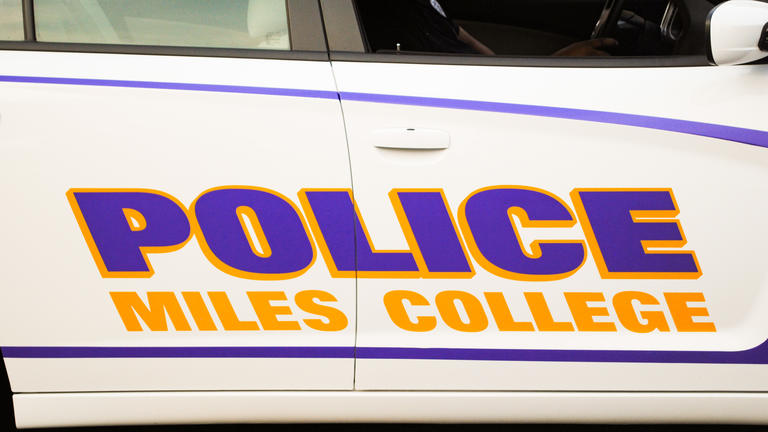 Miles College Department of Public Safety
The mission of Miles College Campus Security and Police is to ensure through education, environment, and enforcement that Miles College is a safe and secure environment where members of the campus community can achieve their purpose.
Overview
The Police division is a full service police department made up of two types of uniformed officers (College Police Officers, and Security Officers). The Police division's tasks include:
Providing security for people and property on the College campus
Preventing and investigating any suspicious or criminal activities
Ensuring the safety of students, faculty, staff and visitors
Enforcing parking regulations
Responding to alarms and calls for service
Law enforcement and safety education
Support Services
Support services are supplied by non-uniformed staff who are tasked with:
Dispatch operations
Alarm and camera monitoring
Office operations
Campus Regulations
If You See Something, Say Something

Often individuals have the information they would like to share but do not want to get involved due to fear of retaliation. Information can be shared with the Campus Security and Police with complete anonymity. Please fill out the Silent Witness Form if you have information regarding a crime and would like to report this information anonymously to Campus Security and Police. We do not track or collect any information other than what is provided on this form.
Vehicle Registration
Parking decals can be purchased at the Business Office located in Brown Hall. In order to purchase a parking decal faculty, staff, and students should complete the registration form and submit the form and payment to the Business Office.
Registration Hours
Monday – Friday
8:30 a.m. to 4:30 p.m.
The following items are required to register vehicles with:
Current Driver's License

Current Insurance Papers

Vehicle Registration/ Tag Receipt
Campus Safety and Security Statistics
Daily Crime and Fire Log
Miles College Department of Public Safety (MCDPS) maintains a combined Daily Crime and Fire Log of all incidents reported.
This log identifies the type, location, date and time reported, date and time that occurred, and the current disposition of each incident reported to MCDPS. The Daily Crime and Fire Log for the most current 60 days are available for viewing anytime in the MCDPS office at 508 56th Street, Fairfield, AL 35064. Any portion of the Daily Crime and Fire Log older than 60 days will be made available within two business days of a request for public inspection.
Event Clear Bag Policy
Image