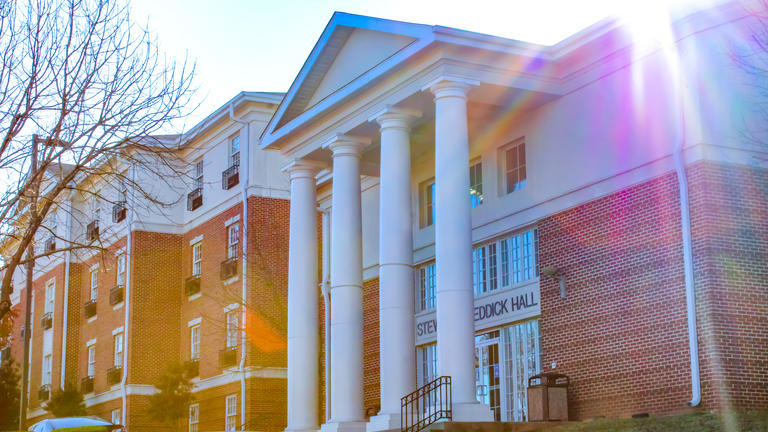 Office of Disability Services
We recognize disability as a valued aspect of diversity, and acknowledge that having a diverse community broadens our understanding and appreciation of the contributions of each individual.
Mission
Miles College Office of Disability Services (ODS) collaborates with students, faculty, and staff to create a campus environment that is usable, equitable, sustainable, and inclusive to all students. The core responsibility of this office is to ensure that the institution maintains its compliance with federal regulations that protect the rights of individuals with disabilities in the educational environment. With that, the Office of Disability Services mission is to improve the education experience of students with disabilities and to enhance the understanding and support within the university through equitable access, accommodations, and the provision of programs and services.
Note: Disclosing your disability in the application process is not required. Applying for academic accommodations is a separate and confidential process through the ODS office.
Getting Started with The Office of Disability Services
If you need disability accommodations while at Miles, you will be working with The Office of Disability Services (ODS). Our office works cooperatively with other departments to provide accommodations for students in and out of the classroom.
Accommodations for Temporary Illness or Injury
On-Campus Housing Accommodations
Additional information for on-line students
Requesting Academic Accommodations at ODS
Miles College provides academic accommodations for students to ensure equal access. These accommodations are provided with guidance from Sections 503 and 504 of the Rehabilitation Act of 1973, the Americans with Disabilities Act of 1990 (ADA), as amended by the ADA Amendments Act of 2008, and other applicable federal and state regulations that prohibit discrimination on the basis of disability.
Under these laws, students with a documented disability have a right to receive reasonable accommodations.
Office of Disability FAQs
The College Section 504 Coordinator is Ms. M. Patricia Wilson, Director of Human Resources

Hazel Germany ADA Coordinator of Disability Services (Students)

Accommodations are modifications or changes that limit the impact of a person's disability. In order to receive accommodations, you must provide documentation of your disability and how it impacts you in the academic environment. Once accommodations are determined, you are responsible for requesting your accommodations each academic year.

No, you must complete a recertification. Each term students register for new classes and the professor changes. Those new professors have to be notified of your accommodations and this is done by recertification.

Students who qualify for services must have a disability that substantially limits a major life activity. To request for services with the Office of Disability Services (ODS), a student is encouraged to provide current documentation of a disability.  Documentation should include a specific diagnosis and be completed by a qualified licensed professional. If you feel you have a disability, but do not have any current documentation, you should still contact ODS for assistance.

The student is responsible for getting the appropriate and current documentation to ODS. If testing or assessments need to be done, all cost incurred is the responsibility of the student.

ODS does not provide evaluation services. We will, however, provide a list of testing centers in the Birmingham area that perform psycho-educational and neuropsychological assessments.

Refer to the Housing Accommodations in the Housing Handbook

Yes. Students with temporary disabilities must follow the same registration procedures as all other registered ODS students.  Accommodations are approved on a temporary basis.

There is no special application process for students with disabilities applying to Miles, although a student may voluntarily disclose their disability during the admissions process. Please understand that your disability has no impact on the admissions decision.

No, ODS does not provide tutoring. You may contact the department of the course you are having difficulty in for a tutoring referral.

Students who need to have a copy of their disability documentation forwarded to another party must complete a signed release. Please complete the release of information form (link) and return to ODS.

Agencies administering professional exams (i.e. GRE, MCAT, LSAT, GMAT) or certification exams (i.e. NTE, CSW, Bar exam) typically require individuals seeking disability related accommodations to submit current documentation of disability and/or a test packet form completed by the postsecondary institution's Center for Students with Disabilities. Disability Services must verify that the documentation of disability on file is current and complete and that the individual has used the requested accommodations while in attendance. Individuals seeking test accommodations approval for such an exam should contact Disability Services with the appropriate test information and forms.
Services Request Timeline
Timeline for Accommodation Requests
Making Timely Requests for Accommodations
Support services may not be available until requested by a student registered with ODS. In order to ensure sufficient time to provide accommodations, the student must submit their accommodation requests through email within the appropriate time frame each semester.
Timeline
Type of Service
Time Required
Interpreting, Real-time Captioning, Real-time Transcribing, Video Captioning, Classroom Relocation, Braille materials
Within 48 hours after registering for classes.
Accessible Furniture 
At least three (3) weeks prior to the beginning of the new semester.
Classroom Assistant, Lab Assistant, Library Assistant
At least two (2) weeks prior to the beginning of the new semester.
Alternative Format (E-Text)
At least four (4) weeks prior to the beginning of the new semester.
Notetaking Services
Upon registration or one (1) week prior to the new semester.
Alternative Testing
Within 48 hours of registration or at minimum one week prior to exams.
Scheduling Exams with Disability Access Services

Minimum advance notice required for scheduling exams with ODS:

Quizzes and Midterms - 5 business days
Finals - 10 business days
Summer session - 4 business days

Accessible University Housing
Requests for accommodation from incoming students beginning Fall semester made before June 1 will be given priority. After June 1, requests for accommodation will be made as space is available. ODS and Residential Education recommend that you complete an accommodation request when you fill out your housing application.
Flexibility in Attendance and Assignments
At least one (1) week prior to the new semester.
Certificate of Disability
Contact Us
Office of Disability Services
Hazel Germany
ADA Coordinator
205-929-1438
Hours of Operation
8am-5pm